CALENDARS
Our 2016 Fantasy Art Calendar published and sold via Red Bubble is now ready. Please follow this link or click on the image of the calendar's cover to see it now. Please see more info below.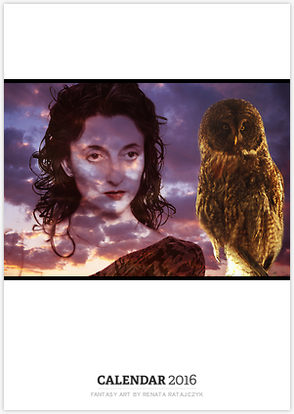 In this calendar you will find many of our fine art inspirational surrealistic images of people presented as fairies, gods, goddesses, nymphs and other spiritual beings. With the images included in this collection, we hope to stimulate your mind and to heighten your imagination.
You can also use the artworks in the calendar for meditation, relaxation or just simply to decorate your walls. The calendar could make a perfect gift for your family and friends. To see it, please follow this link.
Many of the images presented in the calendar are available as fine art limited edition prints directly from us. Some of the artworks included there are available as greeting cards or posters via Red Bubble Store at: http://lightvision.redbubble.com/
We invite you to share this info with your family and friends via Facebook or other Social Media.

If you need more information about calendars we offer, please contact us.

More Samples of Renata's Fine Art Work Available as Fine Art Prints or Greeting Cards.

- Fine Art Nudes
- Flowers - buy prints or greeting cards.
- Fantasy Landscapes
- Floral Mandalas
- Concept Fine Art Portraits - visit out fine art website.
- Still Live


Contact Information and Buying Fine Art Prints.
If you like any of Renata's images posted on these websites and they are not offered via our stores, or they are only available there as greeting cards, posters or other products, please contact us for more information. If you are looking for limited edition prints, you will find more information here. Beside e-mail, you can also call us at: (905) 434-3753 (between 10 AM and 5 PM - we are in Toronto area, Canada).